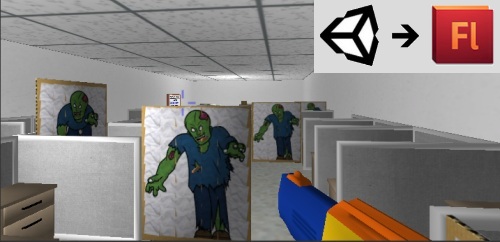 With the Unity 3.5 developer preview being made available to the public yesterday, I set out to try the new Unity to Flash exporter. I've been looking forward to this feature since it was announced almost a year ago. The first project I decided to work on was Office Zombie Simulator, a small game Calin and I build back in February.
The major stumbling block with porting this project to Flash was that it uses iTween. As a lot of people have discovered iTween does not work with the Unity Flash exporter. Yesterday, I spent the day hacking iTween and got it to work with the Flash exporter. Get the modified version of iTween here.
With iTween working, I spent part of the day fixing up a few issues and now Office Zombie Simulator works in Flash. While it's a little rough around the edges it is simply amazing that I've brought something of this complexity from Unity into Flash in just a couple of days.
Without further ado, here is the Flash version of Office Zombie Simulator.
I want to do a huge shout-out to the Unity team, what they have accomplished is incredible. I look forward to what the future brings.