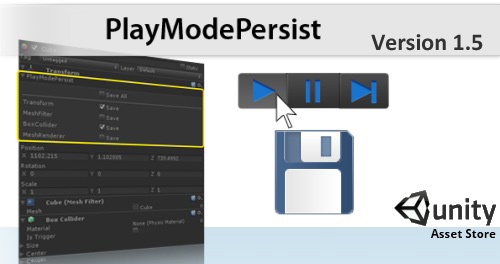 A new release (v1.5) of PlayModePersist is now available for download in the Unity Asset Store – http://u3d.as/content/almost-logical-software/play-mode-persist/1tS.
PlayModePersist is a Unity Extension that allows you to persist changes you make in the Unity Editor while in Play mode. To learn more about it your can read my original blog post:  http://blog.almostlogical.com/2011/01/11/playmodepersist-unity-asset-store/
Thanks to some great feedback from users I've added a bunch of new features and a few fixes.
What is new in Version 1.5
Shortcut key : Open/closing the PlayModePersist dropdown : Shift+Alt+O
Shortcut key : Persisting all components within selected GameObject : Shift+Alt+P
Auto Persist Settings – Ability to search for and add components you would like to always auto persist in all your projects (Window -> PlayModePerist Auto Persist Settings)
Bug Fix : Issue persisting multiple GameObjects at the same time
Bug Fixes : Cleaning up warning and error messages that can occur since Unity 3.2
These new features make PlayModePersist not only easier to use, but should save you a lot more time.
If you already own PlayModePersist this update is free simply download the update. If you haven't yet pick up a copy, what are you waiting for? Download it now: http://u3d.as/content/almost-logical-software/play-mode-persist/1tS